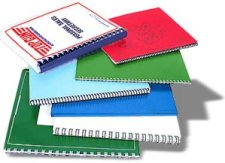 Our distinctive covers give your reports, proposals and documents a look that demands attention. They can be used with most binding systems such as Plastic Comb, Wire, Plastic Coil and VeloBind®. Covers come in a variety of styles, colors, thickness and sizes.
Our Clear Plastic Covers are perfect if you want to print your own custom cover with a laser or color ink jet printer and protect it with a clear cover.
Please contact our office for other sizes or specifications.